I hardly ever do favourites posts, mostly because I don't try nearly the volume of products necessary to make that tenable on a regular basis. I think occasional seasonal roundups work for my purposes, though the last one I did was back in the fall of 2016. Here is the warm-weather answer to that, then!
Like many others, in the summer months I opt for a lighter base. This is now my second summer regularly using The Ordinary Serum Foundation in 1.1N, which doesn't work too well for my skin in winter but looks beautifully natural in summer. To pair with this lighter base, I've really been enjoying Bourjois Radiance Reveal Concealer in Ivory. True to its name, it has a natural, radiant finish, but its peachy undertone does wonders in brightening up my dark undereye area. To give it a bit more coverage and lasting-power (and to make it a tad lighter), I usually mix in a little bit of Makeup Revolution Conceal and Define Concealer in C1. Mixing concealers is a new and slightly finnicky trick in my repertoire, but I can't fault the results.
Here's the Bourjois concealer on its own (on the right, obviously) for comparison's sake:
When mixed with the Makeup Revolution concealer, it's not quite as dewy as it appears in this picture. I do prefer that look slightly, but I think the results of Radiance Reveal on its own are lovely: natural, luminous, and surprisingly effective for such a comfortable, emollient, lightweight formula.
Back in May I used some Optimum points to pick up the Clinique Blush Pop in Peach Pop, my first taste of this well-loved formula. Though I find the clear plastic packaging a bit cheap-looking, I can't deny that this is a beautiful buildable, long-lasting blush. Like a basic bitch, I love peach in the summer, so I've used this very frequently over the past few months. When I want a more vibrant blush, I use my trusty Hourglass Ambient Lighting Blush in Diffused Heat, a lovely red-coral. Between those two blushes (well, and the always-appropriate Hourglass Mood Exposure, of course), I've scarcely touched anything else.
My eyelids eat cream formulas after the six-hour mark, and I always have the best results with powder shadow over a good primer. So colour me surprised that the Stila Shimmer and Glow Liquid Eyeshadows truly stay put on my eyes all day. In the heat of a humid Toronto summer, these shadows are quick and easy to apply and completely bulletproof. I picked up the shades Kitten (Stila's classic champagne) and Jezebel (a rose gold) in May, and I've been using them… basically all the time. I do really like the Glitter and Glow shadows, too, but they're a bit prone to fallout, while the high-impact, metallic Shimmer and Glows are not.
Here's how Kitten looks on my eye, with a matte brown powder shadow in the crease:
And Jezebel, with some similar crease shadow action (and mascara smudges):
And a swatch gif, so you can see how beautiful these guys really are: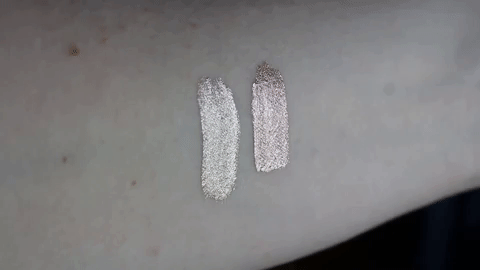 In the summer I gravitate towards my impossibly bright lipsticks, all of which are in the same basic colour family. Marc Jacobs So Sofia, a purchase made almost exactly a year ago as summer wound to a close, has seen a lot of use. So has Revlon Fire and Ice, a truly classic shade which lives its best life in the summer months. New-to-me is NARS Satin Lip Pencil in Dragon Girl, a shade popularized by Taylor Swift several years ago. In the wake of 1989 (which was a damn catchy pop album, sue me), I coveted the colour but could never pull the trigger; when a family friend gifted it to me last month, I was predictably ecstatic. On Swift, Dragon Girl is a bright, fiery red; on me, it's noticeably more pink, though still as delightfully vibrant. Revlon ColorBurst Balm Stain in Romantic is a long, long, longtime favourite – it's a beautiful sheer, warm red that's never too much. (They still make this shade, too, though most of the Balm Stains are long gone.) After a long period of gravitating more towards neutral lipsticks, I'm back to my best self with my bold colours.
I arrived back in Canada at the end of May after eight months in the UK, and I found that my hands were suddenly very dry in this climate. Though I have a pretty dry face and very dry arms and legs, my hands have always self-regulated pretty well. But apparently the change in climate was too much, so I had to turn to The Chemistry Brand HA3 Hand Hydrator. This is a super effective, hyaluronic-based hand cream with a light whipped texture. The reason I like it enough to talk about on my blog is that it sinks in incredibly quickly without compromising its efficacy. I cannot stand feeling like there's anything on my hands; I want to wash them immediately. A lot of hand creams are like nails on a chalkboard to me, but not this one. It also has a very peppy zesty scent which I enjoy.
I also really enjoy The Chemistry Brand Hyaluronic Body Mist for a hit of moisture between body lotion applications. It's especially nice to have something so quick and easy to apply in the summer, when the heat can induce lethargy. Sometimes it seems altogether too much to rub cream all over my body, but a quick mist is within my capability. This product definitely isn't a substitute for an actual body lotion (at least not for my dry skin!), but it's a great interim product.
In the non-makeup realm, I would probably be dead without the Invisibobble knockoffs I got at Primark back in the winter. I'm growing out my blonde (as you have no doubt been able to surmise from my photos over the past year and a half), and I have a few months to go before I can chop it all off. My hair is longer than I like it, and since it's very thick and abundant it's just far too much to have on my neck in the summer. I've been putting it up in a high ponytail or topknot almost every day, and these little coiled hair ties do an amazing job at keeping my hair comfortably in place. I definitely don't think you should pay for the brand name version, but if you can find cheap knockoffs they are great for keeping thick, unruly hair at bay.
And, before I go, one summery miss: Avène High Protection SPF50+ Emulsion. This sunscreen has a pleasant texture (if a bit thicker than other facial sunscreens by brands like La Roche-Posay and Vichy) and user-friendly packaging, and seems truly effective if my perpetually-fair face is anything to go by. Unfortunately, it leaves such a white cast. When I'm going to work this isn't an issue as I put foundation on top anyway, but I often leave my house without makeup but still want to be protected from the sun. It's a bummer, because I do like the product otherwise, and the pump/squeeze-tube hybrid packaging is always welcome in my home. When I'm out of this I'll be looking to another brand for my face sunscreen needs.
And that's what I've been putting on my face this summer! It's a nice mixture of new discoveries and old favourites.
Leave a Reply
Please feel free to leave a comment; I'd love to hear your thoughts on this post. Please don't leave a link to your blog in the body of your comment. If you leave your URL in the appropriate field in the form I will be able to click your name and check out your blog. Comments that don't adhere to this policy will be edited or deleted.